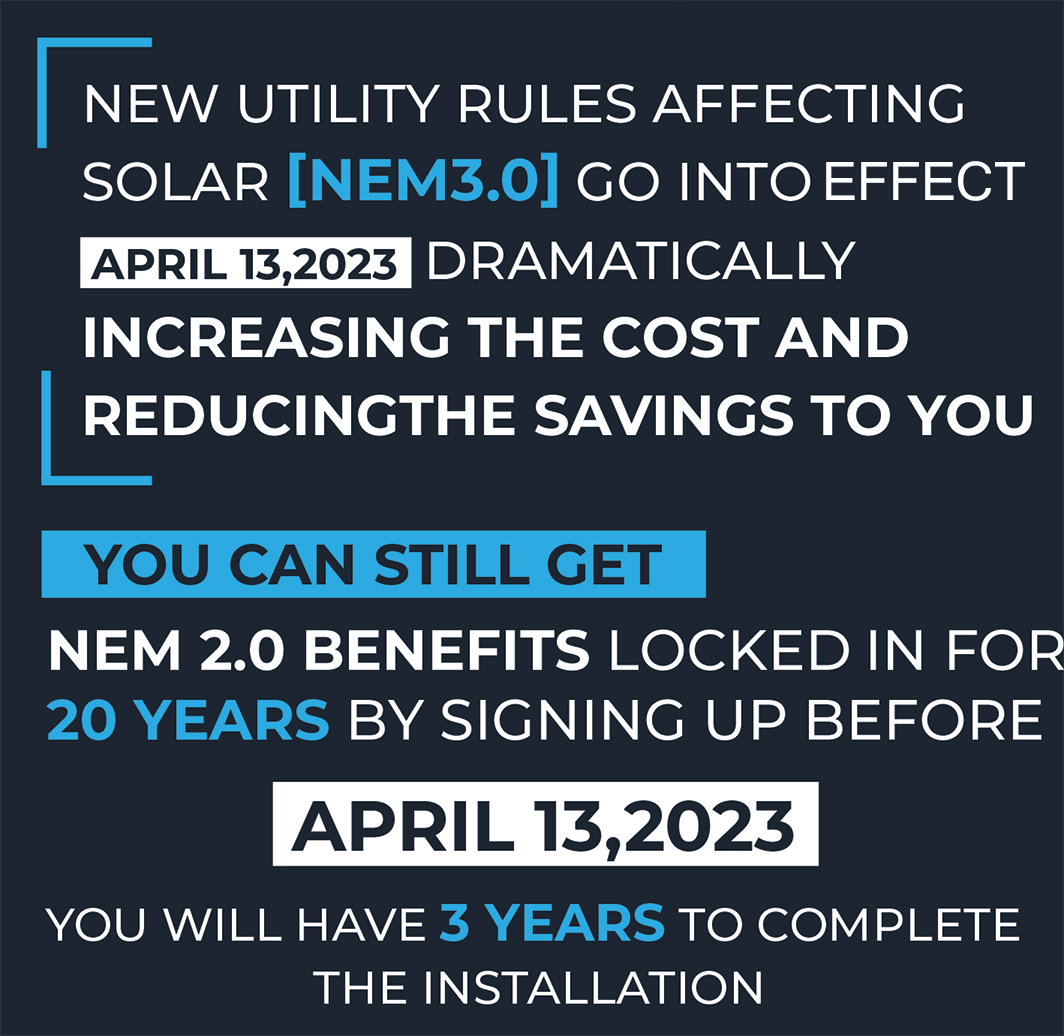 To qualify you must submit a final interconnection application with a signed installation
contract and system design documents before the deadline. You have up to three years to
install the system as long as you have a completed NEM2.0 application submitted by the
deadline. We process the application for you.
YOUR WINDOW TO GO SOLAR WITH SIGNIFICANT SAVINGS IS CLOSING BUT WE CAN HELP
We Make Solar More Affordable
Save THOUSANDS of dollars today by choosing MSI Solar to install panels on your roof.
We save you money compared to other solar companies in Bakersfield.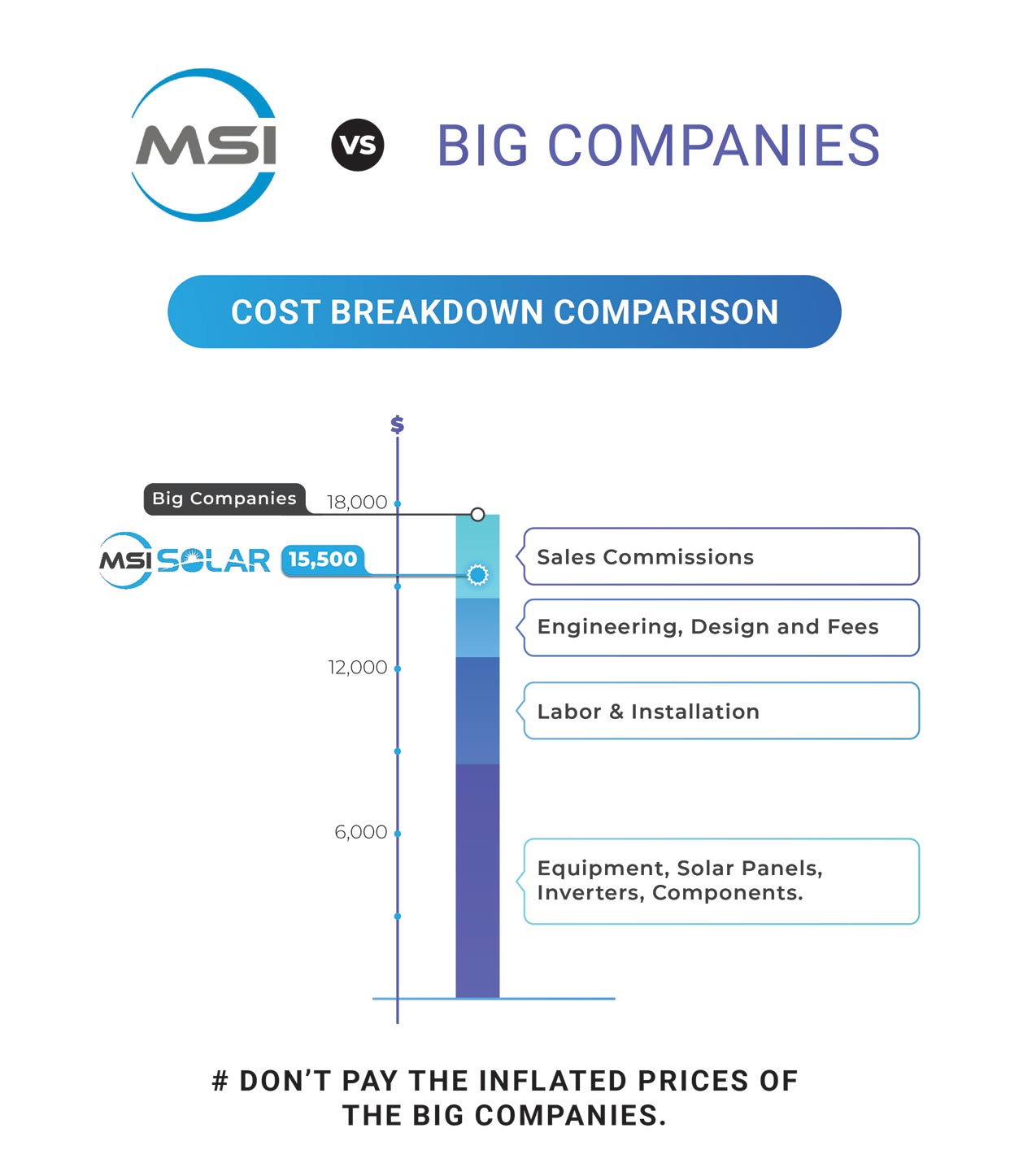 How Does Solar Help You?
Solar has changed since it first came to market decades ago. What once was a nearly unaffordable option for consumers, has improved on technology, cost, and availability in the United States.
Bakersfield and Kern County experiences, on average, 274 sunny days per year! This makes your home a near perfect option for solar panels.
Solar panels also:
– Increase Property Value
– Benefit From Federal Tax Credits, currently at 22%
– Cut on CO2 Emissions
– Help Cut Costs on Your Electricity Bill, in CA, average $10,000 to $30,000 over the lifetime of the unit
Unmatched Warranty
We want to take the stress out of maintaining your system over the years. While 90% of future problems can be prevented by our rigorous installation standards, sometimes a system component malfunctions and will need to be replaced. We've been in business since 2009 and we have the experience to provide incredible service to you, when needed. 
HERE'S WHAT YOU NEED TO KNOW 
We don't charge you labor to diagnose or fix the problem for the life of the warranty
Warranty covers roof penetrations for a period of 20 years
You receive monitoring data so you can track your system's performance
The key system components: solar panels and micro-inverters carry manufacturers warranties up to 25 years. See the manufacturers documentation for more details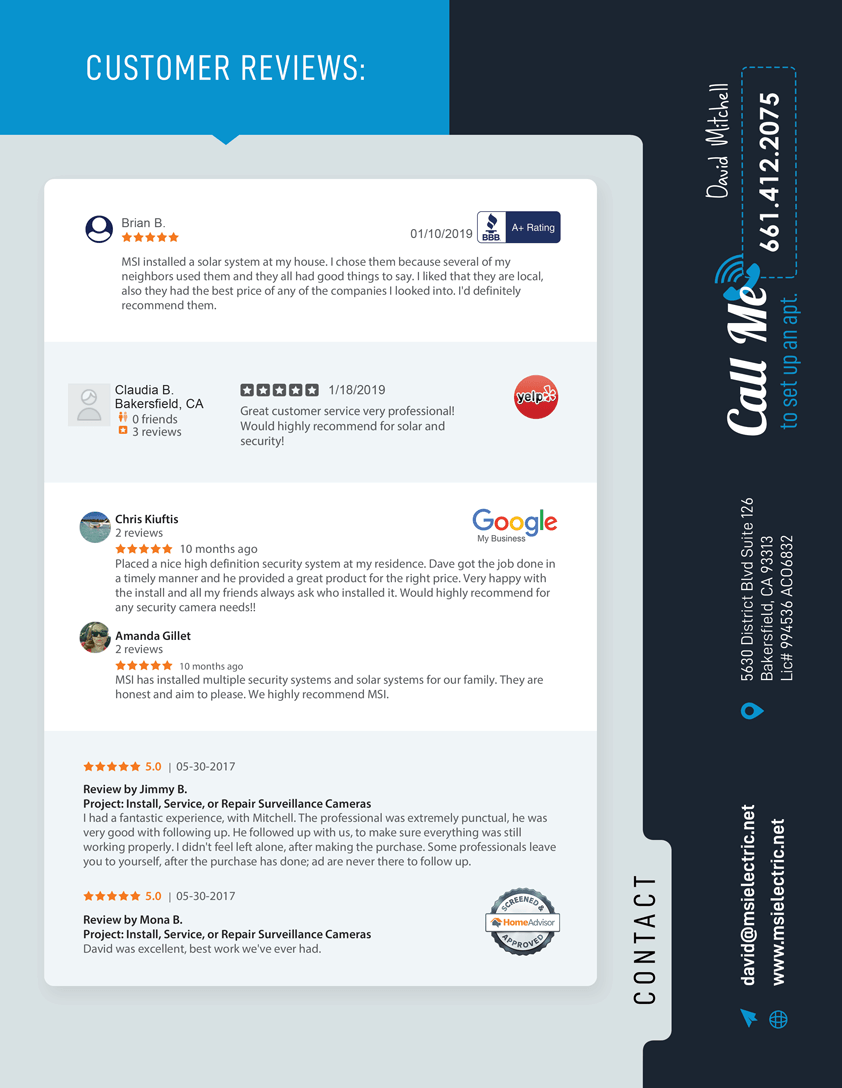 Don't Delay, Get Started Today
We will take care of you. 
With our unmatched warranty, professional service, industry expertise, and local availability we are ready to help you get solar installed on your home.
Call us (661) 412-2075
Email: [email protected]
MSI Solar
Get Solar Installed and Save Money with MSI Solar
MSI Solar is proud to serve Bakersfield and Kern County residents with solar panels. Since 2009, the team at MSI has been Kern County's security and solar experts.
We've made it easier than ever to decide on solar for your home for the long-term. Our qualified technicians have the skills and know-how to flawlessly install equipment that will stand the test of time.  You can always count on our commitment to quality from installation through long-term service.
Above all, we save you 20-30% compared to bigger solar companies.